From blouses to blazers to boots, Topshop is a brand known for being able to dress a woman from head-to-toe for nearly every occasion that life throws her way. And with the chilly weather upon (some of) us, it's a great time to stock up on all the basics like warm outerwear, leggings and of course a few statement pieces to vitalize your look.
It's no secret we have a love affair with Topshop. If you're in need of some inspiration for an ensemble, then check out the array of unique Topshop separates on Lyst. Not only do they have the season's latest styles from Topshop, like the Grey Ribbed Roll Neck Jumper from the extensive turtleneck collection, but they also happen to feature a number of other great pieces all in one place.
According to InStyle, Topshop's new season collections are always highly anticipated. And given the brand's awesome selection of both trendy and classic closet staples, the magazine's praises seem to be right on point. The most recent collections are full of affordable fashion and the latest on-trend looks.
If you still need a few more ideas, then Marie Claire has some excellent suggestions on what to snag from Topshop. The magazine believes that the brand's trend-led items offer endless styling options and the staff is said to always snap up the newest pieces in record time. The editorial team is currently loving wide-leg trousers, suede dresses, loafers, and a colour palette that includes burnt oranges and rich berry tones.
Below are a few Topshop favourites that should be just the thing to get you ready for the winter festivities that lie ahead.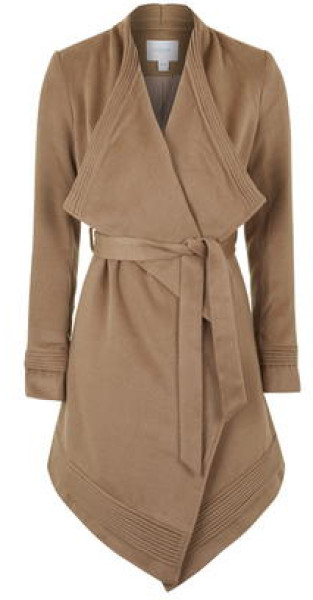 Look stylish for any shopping romp or casual party with friends. Pair this green and yellow plaid check A-line skirt with a pair of black chunky over the knee socks, ankle booties, a roomy cable-knit sweater, and a soft pom-pom beanie for an outfit that will carry you through the cooler months.
Bundle up with this belted camel coat. It's the perfect outer layer to keep you warm on the way to a party. It boasts a fitted and feminine silhouette that would look great over a pair of eggplant-hued cigarette pants, a sleek white button down shirt, a beautiful statement necklace, and a pair of black closed toe pumps. Most definitely.
Looking stylish is easy with the right pair of boots, so don't forget to grab a pair of knee-highs this season. Great for wearing to get-togethers with friends and family, or even to work, these versatile brown suede boots will look great with just about anything. That being said, they work especially well with skinny jeans and an oversized boyfriend sweater for a casual outing, or with a belted sweater dress and opaque tights for a cute date night ensemble.
With so many great options, your outfit should be the best it possibly can be, especially with the variety that Topshop has to offer. We are firm believers that Topshop could comfortably accommodate an entire wardrobe, they just always seem to have the answer. Just remember to have fun and enjoy your time choosing from the latest fashions for the perfect wardrobe.